by Ricky Swanson, from
Jennie Bentley
's Do It Yourself home renovation series: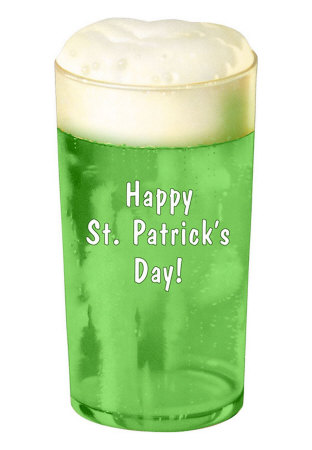 I am, you know.
Irish. You can't tell by the name, not anymore, but when I was born, my name was Patrick Murphy.
That all went out the window five years later, when my mom decided to take me and leave, and my dad decided to stop her. In the end, they both died, along with my grandparents, and I went to live with my aunt and uncle in Pittsburgh. That's when I became Ricky Swanson.
But I'm still Irish. I look like my mom, Peggy. Black Irish, they call it. Dark hair, blue eyes. I think I've probably got a little of my dad in me, too, even if I don't look like him. Brian Murphy was proud of being Irish. Always used to go to Portland for the big St. Patrick's Day parade every year. He'd wear a green shirt that said 'Kiss Me, I'm Irish,' and he'd always get plenty of kisses, most of them from my mom. He'd drink green beer and sing Irish songs and talk about taking her to see Dublin and Killarney.
They never went. And now he's dead, and so is she, so they never will. But I'm still around. Maybe I'll take Paige to Ireland sometime.
And tonight, since it's St. Patrick's Day, I'll still be lifting a glass to my dad.


May the road rise to meet you,
May the wind be always at your back,
May the sun shine warm upon your face,
The rains fall soft upon your fields,
And until we meet again,
May God hold you in the palm of his hand.
Rest in peace, old man. Rest in peace.