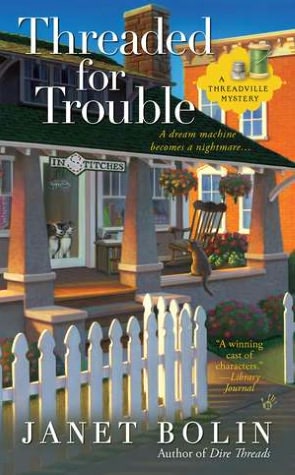 Welcome back to Threadville , Pennsylvania , where crafts are king, and a"killer" sewing machine lives up to its name…
Darlene Coddlefield, the winner of a national sewing competition, has come to Willow Vanderling's embroidery shop, In Stitches, to be presented with a top-of-the-line Chandler Champion sewing and embroidery machine as her prize. But Darlene's triumph is short-lived after she's found dead under her sewing table, apparently crushed by the heavy machine.
It soon becomes clear that this was no freak accident. Who had it in for Darlene Coddlefield? The long string of suspects includes Darlene's fire chief husband. So Willow and her best friend, Haylee, become volunteer firefighters to uncover the truth. But when a second sewing machine sparks trouble, the friends realize they may have jumped from the frying pan into the fire…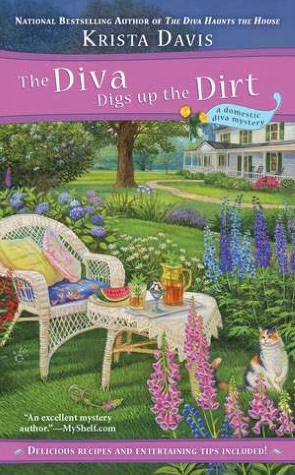 Determined not to be a garden-variety diva, Sophie Winston's neighbor Natasha cultivates a plan to shine on television -- using Sophie's backyard. As the cast and crew of the make-over show Tear it Up with Troy bulldoze through her backyard -- and vacation -- Sophie retreats to her perennial boyfriend Wolf's to replace a dead rosebush. But her tender deed goes awry when she digs up a purse belonging to Wolf's missing wife.
As speculations sprout, Wolf bolts, and then a body crops up in a garden. Is Wolf's thorny past raising an ugly head? This is one case the domestic diva can't let wilt on the vine.
For more information

or for links to buy a copy, visit Diva Mysteries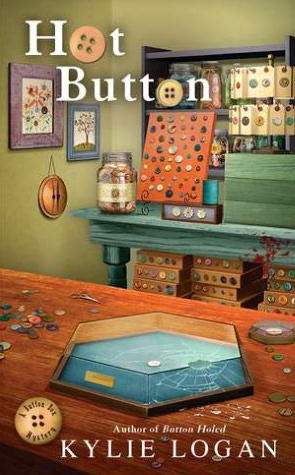 Button collector Josie Giancola has a sharp eye for detail, and a love for keeping things together. But when a murder interrupts her button business, she's always ready to snap into action…
As chairwoman of an international conference for button collectors, Josie has plenty to worry about. Between greeting collectors, overseeing the dinner cruise, and attending to the many needs of the guest of honor, Thad Wyant, she barely has time to deal with her gorgeous ex-husband…let alone a dead body.
But when Thad is found dead in a hotel linen closet, Detective Nevin Riley needs Josie to help him solve the case. Mr. Wyant's historic Geronimo button has gone missing, and considering how many enemies he's made in the small and peculiar world of button collectors, Josie will have to act fast—before she becomes history herself...
For more information

or for links to buy a copy, visit Kylie Logan at the publisher's website.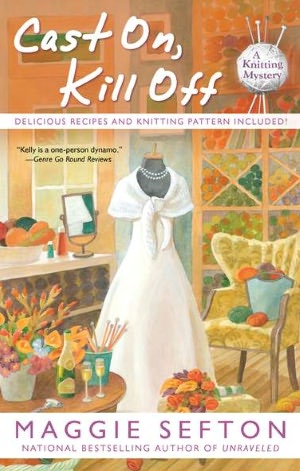 Wedding bells are ringing in Fort Connor, Colorado, and the House of Lambspun knitters are abuzz with excitement. But when a murder interrupts the wedding planning, Kelly Flynn will have to solve this crime fast to ensure the killer doesn't wind up on the guest list…
Kelly Flynn's knitting pal, Megan, is about to get hitched, and all the planning is falling into place. Megan has found the perfect seamstress, Zoe Yeager, to create the dresses for Kelly and the other bridesmaids. And each bridesmaid is knitting her own loose-knit shawl to drape over the lovely dresses. But Zoe has more than bolts of fabric and seam-cutters stashed away in her shop—she's harboring a secret. Bruises on her face show a troubling side of her marriage, and just after she finds the courage to leave her husband, Zoe's found dead from a single bullet shot.
Though her husband is a key suspect, it turns out there are others who might have had designs on Zoe's death. One is fellow seamstress Leann O'Hara, who recently discovered Zoe won a bridal gown design contest with one of Leann's own designs. Now it's up to Kelly and her knitting pals to use their sleuthing savvy to solve the case, while helping Megan stay cool and collected as the big day approaches. They'll have to stitch up all the loose ends before they can don their dresses and shawls and escort Megan into the land of happily ever after…
For more information

or for links to buy a copy, visit Maggie Sefton's Website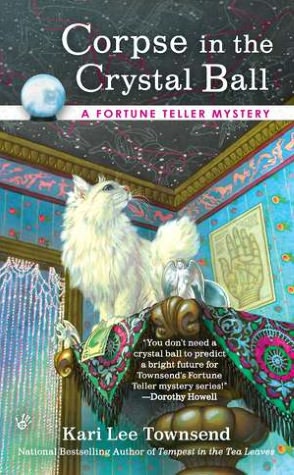 Psychic Sunshine Meadows makes a dark discovery in the woods…
After clearing her name as the prime suspect in a murder, Sunny Meadows hopes she can finally enjoy some serenity in the idyllic town of Divinity in upstate New York. She'd also like a second chance with Detective Mitch Stone. But when Mitch's gorgeous ex-girlfriend Isabel Gonzales shows up, Sunny's not sure she can compete. Then Isabel mysteriously disappears.
When the police turn to Sunny for help, her visions lead to the discovery of Isabel's corpse in the woods. Before she died, Isabel scrawled a message in the dirt implicating Mitch in her murder. Now Sunny must help the man she's falling in love with as she sets out to find the real killer. But this time Sunny's clairvoyant abilities might not save her—as what she doesn't see can hurt her…
For more information

or for links to buy a copy, visit Kari Lee Townsend's Website