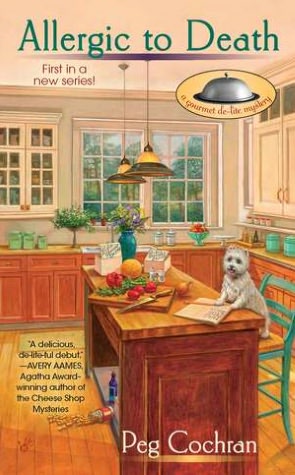 Allergic to Death
Preparing calorie-conscious meals for the dieters of Woodstone, Connecticut, Gigi Fitzgerald knows a cheater when she sees one. And when murder is on the menu, she's ready to get the skinny on whodunit...
Business is looking up for Gigi's Gourmet De-Lite, thanks to her newest client, restaurant reviewer Martha Bernhardt. Martha has the clout to put Gigi's personal meal plans on everyone's lips. But instead of dropping a few pounds, Martha drops dead from a severe peanut allergy...right after eating one of Gigi's signature dishes.
When the distractingly debonair Detective Mertz identifies traces of peanut oil in Martha's last meal, Gigi suddenly finds her diet catering business on the chopping block. Now she'll have to track down who tampered with her recipe before her own goose is cooked.
Includes delicious—and healthy—recipes!
For more information or for links to buy a copy, visit Peg Cochran's website.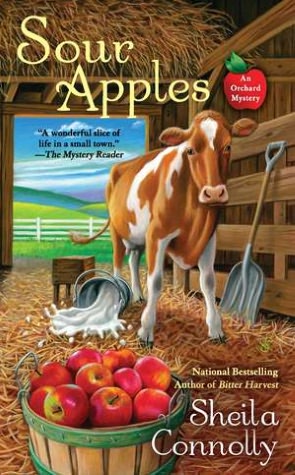 Sour Apples
Apple orchard owner Meg Corey is finally feeling settled into her new life in Granford—she's made friends, and her relationship with Seth Chapin is heating up—when her old Boston coworker Lauren Converse comes barreling into town, running the Congressional campaign for a former hometown football hero. But Meg doesn't have time to worry about why Seth seems reluctant to back Lauren's campaign when her neighbor, local dairy farmer Joyce Truesdell, is found dead from an apparent kick to the head from one of her cows.
When an autopsy shows that the fatal blow actually came from a weapon, Meg is even more troubled. Popular opinion points to Joyce's husband as the culprit, but Meg can't help wondering if someone wanted the outspoken dairy farmer out of the way—but why? She'll have to find out who had a beef with the victim, before she's the next one to get creamed...
For more information or for links to buy a copy, visit Shelia Connolly's website.