Hi all! Kate Davidson here from Tracy Weber's Downward Dog Mystery series. Tracy asked me to use today's post to share some breaking news about my future mysteries. Please read Tracy's newsletter, below. She thinks (hopes!) that the first four books in the series will still be on sale on Kindle when this posts, but the announcements are valid nonetheless.
Please wish Tracy and me luck on our future sleuthing adventures!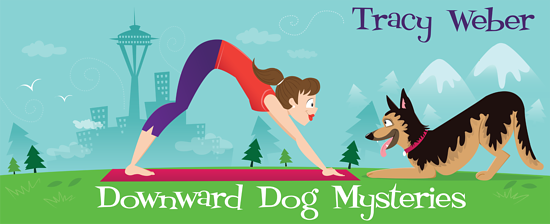 Some of you already know this, but my publisher, Midnight Ink, is going to stop publishing new mysteries effective this summer. This has left me in limbo-ville about what would happen with my Downward Dog Mystery Series. This week, I got at least a partial answer.
Midnight Ink has agreed to give me back the rights for the first four books in the series. Books five and six will remain with them, at least for now. I'm optimistic that they will release those rights as well in a year or so.
Basically, I can continue to write and self-publish the series. I could also try to sell it to a new publisher, but that is unlikely until I own the entire backlist. I've decided to start by self-publishing the first couple of books to gauge interest in the series. I have also started a novella (book 6.5) and I will likely self-publish it. This novella will tie together this series and a spinoff series I'm planning to write starring Rainbow, a new character in Murder Likes It Hot.
This is all essentially good news, but there's a downside.
Within the next couple of weeks, Midnight Ink will declare books 1 - 4 "out of print," meaning that until I self-publish them, they will be unavailable. There are still print copies at retailers, but the e-versions will disappear. I do plan to republish them with new covers and some editorial changes, but doing so will take time.
The e-books are on sale, so you can get them mega cheap, if you buy soon. I also plan to purchase some paper copies to have in stock personally. You can purchase an autographed copy of any of my books from me directly at this link. Don't wait, though, because when these copies are gone, they're gone!
E-book readers and Amazon lovers, follow these links to get books 1 - 4 while you can!
Murder Strikes a Pose: $0.99 Kindle, $13.89 paperback
A Killer Retreat: $1.99 Kindle, $8.24 paperback
Karma's a Killer: $2.99 Kindle, $14.74 paperback
A Fatal Twist: $2.99 Kindle, $13.22 paperback
And of course, the most recent two books are still available.
Pre-Meditated Murder: $9.59 Kindle, $10.99 paperback
Murder Likes it Hot: $9.59 Kindle, $12.84 paperback
As always, Ana and I appreciate your support! THANK YOU!